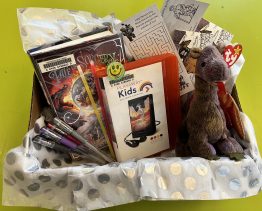 Library Book Boxes: A Monthly Library Subscription Box
Want to find your next good book, plus get some cool items to keep? Sign up for the library's monthly subscription box for kids and teens ages 8+. Here's how it works:
Wait. This is the hard part! Subscriptions will be filled at the beginning of each month.
Pick up your Book Box at the library. We'll notify you when it's ready so you can visit the library and pick up your box! Each box will contain two library materials, and the rest is yours to keep.
Return the library materials after a month, then fill out a new form to sign up for the next month!
To read a full write-up on this service, click here.